Our vision statement leads us to continually seek spiritual growth and fellowship:
"To Make Disciples Of Jesus Christ For The Transformation Of The World,
So That No One Misses Out On The Grace Of God."
Through lively Sunday School, Wednesday Night Ignite, and weekday bible study opportunities, we have a class for you, no matter where you are in your walk with God!
Children's Ministries (Pre-K through 5th Grade)
Children are an important part of the church and we strive to give them a safe and clean place to experience worship and learning!
All children must be checked in prior to worship at our check-in kiosk. A sticker printout with an ID number is assigned to each child at check-in, and the adult will be provided with a corresponding ID sticker. For child pick-up from Sunday School, children's sticker IDs must be compared to the adult's before a child is released. We prioritize safety at GBUMC!
Children's Sunday School Classes
9:45 am
· Preschool 3 and 4-year-olds - Room 128
· Kindergarten- Room 124
· First Grade - Room 125
· Second Grade - Room 130
· Third Grade - Room 126
· Fourth & Fifth Grades - Room 129
Families who attend the 9:30 am Worship will begin together in the Sanctuary. Children will be invited to the "Children's Moment" and will be led to Sunday School by their teachers.
Children will be picked up by parents in Sunday School classrooms.
Contact: Cheryl Pearson at cherylpearson@greatbridgeumc.com
11 am
4 years -- 5th Grade - Room 106
Families who attend the 11 am worship service will go to the Sanctuary at 11 am. Children will be invited to the "Children's Moment" during worship and will be led to Sunday School in Rm. 106 & 108 by their teachers for Children's Church and Junior Church.
Children will be picked up by parents in Rm. 106/108 following worship at 12 pm.
Contact: teresawoodworth@greatbridgeumc.com
Wednesday Evening Children's Classes
K - 5th Grade Fellowship-
· 6:30pm-8pm in Rm. 106
Contact: Teresa at teresawoodworth@greatbridgeumc.com
Nursery Children ages 0-3 years old
Leader: Amber Walker
· Nursery care is available Sunday mornings during 9:30 am & 11 am Worship and Wednesday evenings from 6:00 pm-8:00 pm
Nursery for Newborns to Age 2
Nursery Coordinator: Amber Walker
When church activities are offered, nursery care is provided for children who have parents participating in a scheduled church activity. Please contact the church office with questions at (757)482-1049.
Weekday Nursery Schedule
· Wednesday 6:15 PM - 8:30 PM
· Thursday - 6:30 PM - 8:30 PM
· These times are subject to change as our study and event schedule changes.
On Sundays:
The Nursery is open from 8:00am until 12pm on Sundays for worship and Sunday School.
* Hours may be extended to accommodate for special scheduled events.
Student & Youth Ministries (6th-12th Grade)
"That Wednesday Night Thang" (TWT) -- Youth Rm/104 & 105
Wednesday Evenings from 6:45pm-8pm
All 6th-12th graders are welcome to with us in an opportunity to learn and through discussion, study, and fellowship!
Friday "" Middle School Breakfast
Our Middle School breakfast & devotional is held on Friday mornings from 7:30am-8:15am in the GBUMC Youth Rm/104 & 105.
Our Youth Director can assist in walking students over to Great Bridge Middle School following the breakfast. If your student does not attend Great Bridge MS, please ensure that transportation arrangements are made to school.
Youth Worship
Worship is an important part of spiritual growth and we love to praise God! Youth are encouraged to attend our Contemporary Worship Service together as a group with our Youth Director from 9:30am-10:30am.
Youth Sunday School
Following the worship service, our Youth will head over to Sunday School from 11am-12pm in the Youth Rm/104/105. Here, we will discuss relevant topics about God, faith, and life .
Contact Jackson at jacksonsanderlin@greatbridgeumc.com
Adult Sunday School Opportunities
Sundays at 9:45am
Open Door Sunday School Class, Room 108
Leader: Dennis Marchant
Study: Based off current Sermon series
Cornerstone Sunday School Class, Room 109
Leaders: Debbie MarLenna & Sandra Cotton
Shook Seekers Sunday School Class, Room 132
Leaders: Kay Wright & Jim Cyphers
Good News Sunday School Class, Room 136
Leaders: Ed & Denise Carbaugh
Encouragers Sunday School Class, Room 112
Leaders: Dale Harrell & Robin Comfort
Friendship Sunday School Class, Room 110
Leaders: Maxine Earley & Frances Garner
Christian Fellowship Sunday School Class, Room 111
Leader: Laura Jane Wright
_______________________________________
Sundays at 11am
Soncatchers Sunday school Class, Room 109
Wednesday Night "Ignite"
Weekday Opportunities
Tuesday & Friday "Meet Me at Panera" Tuesdays from 7:30am-9am at Panera in Great Bridge
Leader: Pastor Daniel Guenther
Come for a time to connect with others through relevant discussion on Christian topics.
Contact: Pastor Daniel at danielguenther@greatbridgeumc.com
Thursday Lunch Bunch
Thursdays from 12pm-1pm in Rm. 136
Leader: Pastor Tim Craig
Bring your bible, a bagged lunch, and a hungry heart!
Contact: Pastor Tim at timcraig@greatbridgeumc.com
Regenerate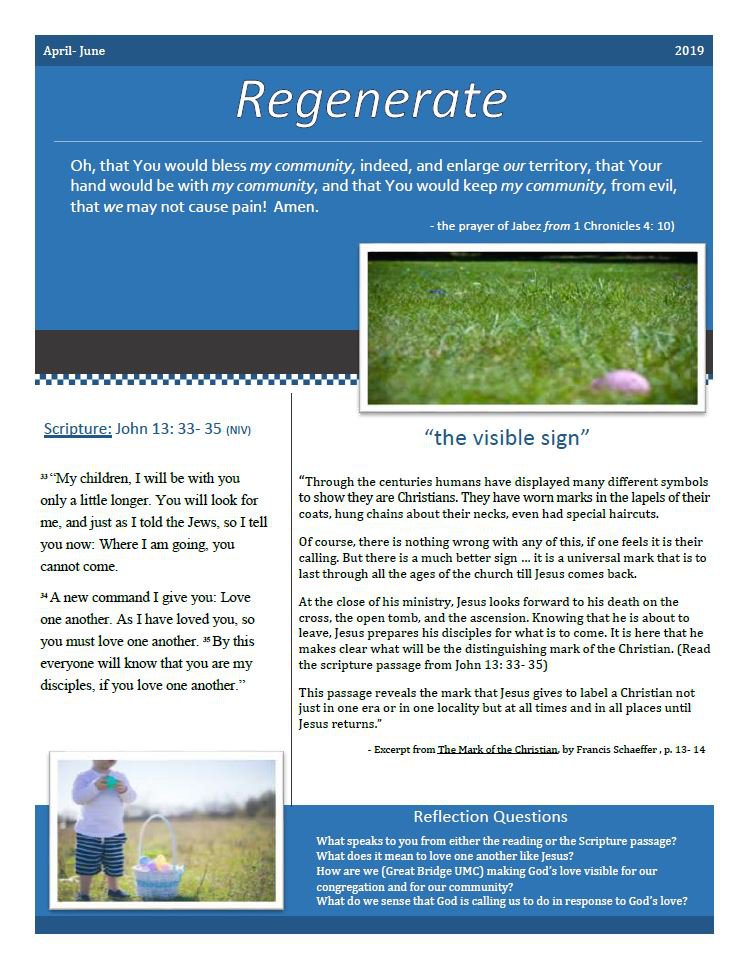 Questions?